CALL TODAY 1-800-256-2803
Winmed™ EHR is an ONC 2014 Certified EHR system that empowers medical providers with the tools they need to accurately document and maintain compliance while providing quality patient care.


Features:
• Solves E/M Compliance Challenge


• Brings the paperless concept closer to reality
• Promotes Data Integrity
• Enhances Quality H&P
• ePrescribe
• Configurable templates for Chief Complaint,
History of Present Illness, Review of Systems
and Physical Exams
• E&M Code Analyzer
• Innovative Code Search (both ICD-9 and ICD-10)
• Document Imaging
• Electronic Interface with Labs
• Patient Check-in Queue
• Included Modules:
Winmed™ Electronic Health Record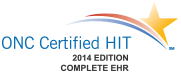 This Complete EHR is 2014 Edition compliant and has been certified by an ONC-ACB in accordance with the applicable certification criteria adopted by the Secretary of Health and Human Services. This certification does not represent an endorsement by the U.S. Department of Health and Human Services.
For our InfoGard Certification public report:
Per the Office of the National Coordinator (ONC) Health IT Certification Program Final Rule, Complete Medical Solutions is committed to greater and more transparent disclosure related to the pricing structure and limitations for its products and services. 
For a copy of our ONC-mandated Transparency Disclosure, please:
Complete Medical Solutions
14707 Perkins Rd.
Baton Rouge, LA 70810
Phone: 1-800-256-2803
Fax: 225-752-9998
WinMedTM EHR




© Complete Medical Solutions 2017